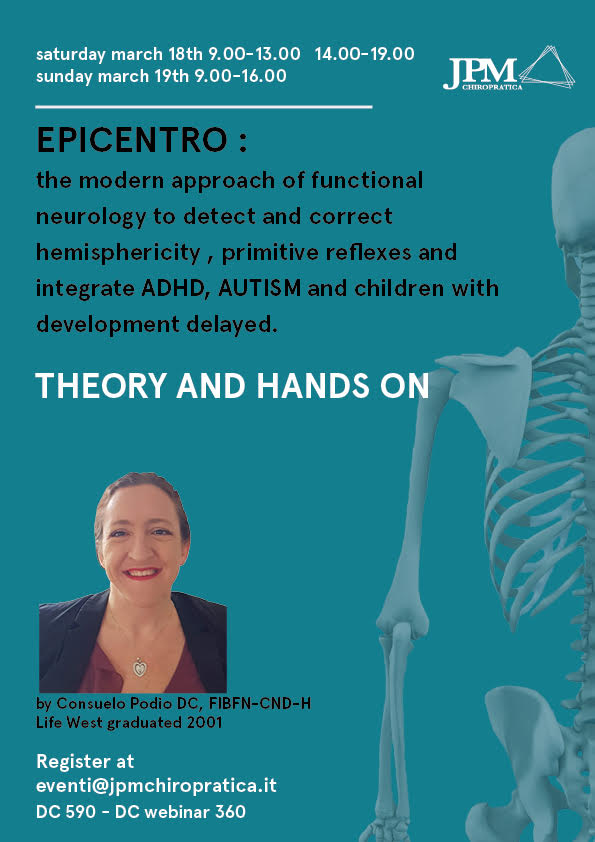 WEBINAR: EPICENTRO: Epigenetics and Neurodevelopment neurology
19 March 2023
A modern approach to Functional Neurology to detect and and correct Hemisphericity, Primitive Reflexes and integration of ADHD, AUTISM and Children with Delayed Development.
A great integration of theory and plenty of hands-on time!
Dates are:
Saturday March 18th 9AM-1PM and 2PM- 7PM
Sunday March 19th from 9AM-4PM
Breaks will be organised throughout the seminar
FEES
An Online version of this seminar has been presented in 2020. Chiropractors who already participated to the ONLINE event, can benefit of the Student discount price.
DC's 590 Euro
Students (and Refreshers from the ONLINE seminar) 360 Euro
SIGN IN HERE
Dr Consuelo Podio, graduated from Life Chiropractic College West in 2001, is a registered Chiropractor with master training
in international board of functional neurology in childhood neurological disorders.
She works in Milan in her private practice together with an Nutritionist Doctor and a Psychologist, as well as in San Raffaele clinic (Resnati) together with Neurologists, Optometrists, Othorinolaringologists and Phisiotherapists.
She started her training in chiropractic pediatrics 6 years ago with doctor Steve Williams to treat children with plagiocephaly.
She followd the Master in Neurology with doctor Robert Melillo to treat
children with ADHD, ADD, TOURETTE'S AND AUTISM.
She is currently training with Dr Martin Rosen to work better with S.O.T and D.N.F.T.
← Back